Reviewing/Retrieving Captured Spam Email
POP3 Mail Accounts
Avspamfilter provides easy-to-use tools for reviewing, searching and retrieving captured spam. Using these tools you can fine tune your domain's spam preferences and add whitelist/blacklist rules to further minimize any risk of legitimate email getting misclassified as spam.
For POP3 mail accounts captured spam email is automatically stored in the Spam email account for your domain (i.e. spam@your_domain.com.) After ten days spam email is automatically deleted. You can access this email account and review the contents using Outlook, Outlook Express, Eudora or other email client program. In this tutorial we'll use web email to examine the Spam account.
Reviewing Captured Spam
1. At the Web Email login window on the AVSpamfilter home page enter the email address and password for your spam account. Then click on 'Login.'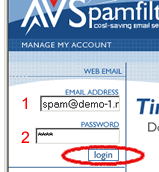 2. The first time you use POP3 web email you'll need to enter a name for the account. Enter 'Spam' and click on the 'Save Changes' button.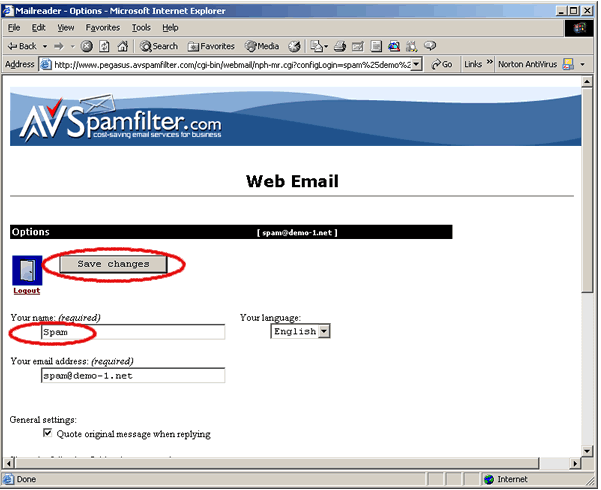 3. The spam message list opens. You can review the spam messages as desired to locate any false negatives. You can control the number of messages appearing on each page with the Options menu. If you decide to delete any emails please remember that you must select the emails, then click the 'Delete' button and finally click on the 'Logout' button to finalize the deletions.